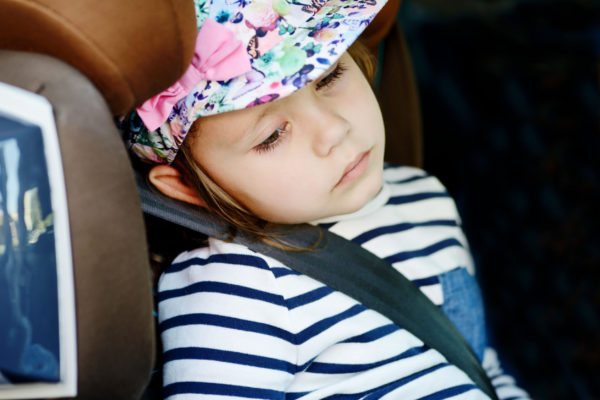 Those famous last words ring out in the car…
"Mom…I don't feel good!"
Hearing that dreaded phrase can make any momma break out in the nervous sweats. Looking desperately for a place to pull over, panicking that you don't have a barf bucket, and WORSE, knowing you don't have anything to clean it up, is NOT a good time!
But, discovering a pale kiddo in the back, who is green under the gils, doesn't have to be a nightmare.
Fear not!
It's Tiny Traveler to the rescue!
Be ready for anything with this DIY Carsick Travel Kit! 
What you need:
10 Inch by 14 Inch Tote – You can also use a bag or another tote that will fit under the seat of your vehicle. Serves two purposes: 1. To contain your kit 2. Barf bucket
Paper Towel – For cleaning up the big messes
Bottled Water – For rinsing out mouths or even rinsing off
Spray Disinfectant – To disinfect and deodorize the vehicle
Crackers or Snack – For calming an upset belly
Baby Wipes –  To wipe faces, hands or even a full body sponge bath
Trash Bag – For soiled clothes
2 Gallon Freezer Bag – For barf collection and disposal
Hand Sanitizer –  To disinfect and clean up
Mouthwash – To freshen breath
Motion Sickness Medicine – To prevent further pukes
Stain Removal Wipes – For saving special clothes
Extra Clothes – To change into post-vom
As much as I'd like to help you out, I can't prevent a total PukeFest from taking over your vehicle while you're on the road! However, with a little carefully pre-planning, you'll be ready to recover from even the worst vom-a-thon!
Pay it forward! Share this video with another traveler!