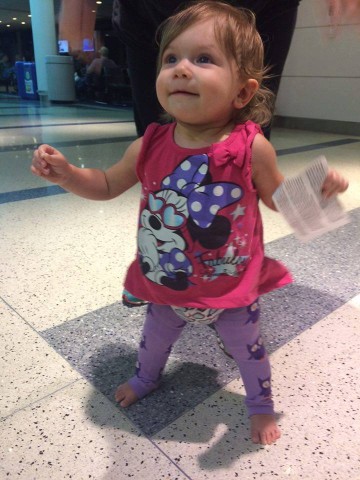 This is a story of a random act of kindness that saved the day!
Living in the snowy North, I'm always up for an adventure that will whisk me away from the below zero, winter temps in Wisconsin. After one recent trip to the tropics, we were preparing to fly home, and I was completely oblivious to anything other than the standard MOTHC (Morning of Traveling Home Chaos)…it looks a bit like this:
Don't forget the nightlight!
Make sure to pack a snack for the airplane.
Get to the airport in time.
OMG…we are definitely going to be late!
Where is Lucian's passport?!
So, when we were safely aboard the plane and zooming along at 36,000 feet, I was really feeling the WIN of travel! Everything went so smooth! I should've stopped myself there because it seems as though whenever I really think I'm winning, the big FAIL is just around the corner.
And so it was.
Coming from 90 degrees and blistering sunshine, I dressed my darling daughter in a tank top and shorts. Brilliant, right?! Well as I mentioned, we live in Wisconsin, which means that it's REALLY. REALLY. COLD. Like Elsa cold! As the plane touched down in Chicago, and I victoriously gathered our belongings, it hit me…
I just brought my kid to subzero in SHORTS…
Oh yea…big fail. Not only is my kid freezing, but what's packed in the diaper bag?  More SHORTS! No pants, no PJ's, no blanket, no nothing. So the hunt was on.
Trying to find baby clothes in an airport is a full fledged disaster! After searching high and low, I realized the hard truth. I had no choice.
I was going to have to make Lucian some pants out of toilet paper! Toilet PAPER!!!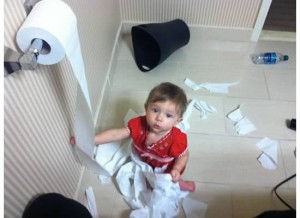 That's right, this was my golden plan! I would just have to wrap her legs up like a little mummy, in toilet paper. We had hit a whole new low.
As I was in a store, looking at a size XXL Chicago Bears t-shirt, to see if I could fashion it into pants,  Jessica Burros, who is the owner of BambinoLand, randomly approached and told me about her company.
"I want to give you something. I have a company called BambinoLand and we make baby leggings!  I want to give you a pair for free. Here, pick any color or design you'd like." – said Jessica.
At this moment, I looked around for hidden cameras like I was being punked! There is NO possible way that this is happening. What are the odds? Who is this angel in disguise who happens to have baby leggings in her bag and wants to just GIVE them to me? Without a flick of mom judgment, she gave me these amazing leggings and saved my kiddo from frostbite!
I decided right then and there, that I would always support her company and I would try to find a way to repay her kindness for the fantastic and unexpected service! Not only are the leggings ADORABLE, they are made from organically grown cotton and they're crazy soft!  These leggings are now on my must-have list for traveling with littles! I highly encourage all of you to invest in a pair (or 10!) She even does a great line of crib sheets and blankets! I want to say THANK YOU Jessica, for being a friend to an unknown, absentminded, fellow traveling mom! You really saved the day in more ways than you'll ever know.
In this spirit, I challenge YOU to help a momma out when you see one! We are ALL busy. We are ALL stressed. We are all trying to live up to unrealistic expectations! We can all use a helping hand from time to time. (Well let's face it, MOST of the time!)
 It's time to make a CHANGE in the motherhood club and I'm the first one who needs to get on board. After being inspired by Jessica coming to the rescue, I realized I need to start being a better Mom Buddy because it's TRUE, it really does take a village to raise a child. Some days are days like this, where you just forget your pants!
So, listen up…here is what I propose, mommas:
Let's make a REAL effort to start supporting each other! Let's stop trying to out-pinterest other moms. Let's stop being lost in our own world. Let's be on the lookout for how we can help each other!
If you're at the grocery store and see a mom struggling with getting the groceries into the car, don't do what I do and stand by watching… pitch in. 
When a mom brings their kid to mom's club with no shoes on, in poop stained pants….don't judge! Congratulate them on the valiant success of just making it in the first place!
If you see a kid having a major meltdown…offer the momma an encouraging smile and tell them they are doing GREAT.
When something cool happens to YOU like this legging story….pay it forward!
Take time today to say THANK YOU to someone who has made your momlife easier!
Never underestimate the power of good deed!
Be a Jessica!
Get loud! What are you waiting for? Comment and thank someone right now!