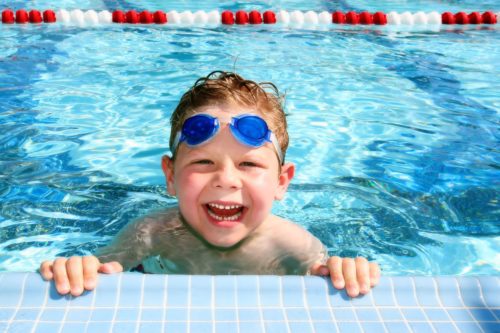 Break out the sunscreen and dig out the water wings because it's SUMMER!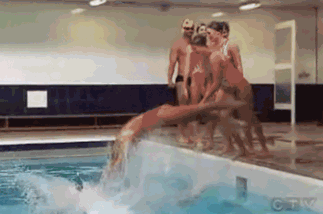 SOURCE WIFFLEGIF.COM
Some of my best memories with my own Tiny Traveler are pool adventures! What can be better than a little fun in the sun? Whether it's your first trip with your baby to pool, or you're a veteran summer swimmer with big kids, this list is for YOU!
Follow these few simple tips to make the MOST of out of your summer pool adventures!
#1. Bring Backup – Whether you have a young baby, a toddler, or a bigger kiddo…it takes a village, so bring some extra helpers! All kiddos need extra eyes on them at all times when they are by the pool. Like my parents always said…."Safety First!" Once you factor in diaper changes and water breaks, you'll be eager to have some extra boots on the ground at the pool.
#2. Screen and Suit Prep – Lather up with the sunscreen and get your suits on before you leave the house. When kids see that majestic water, they'll want nothing to do with you and they'll do a bee-line to the water. There's nothing worse than trying to wrestle a toddler into a swimsuit, or worse, trying to avoid getting sunscreen in your anxious baby's eyes at the pool. If you're ready when you get there you can jump right in.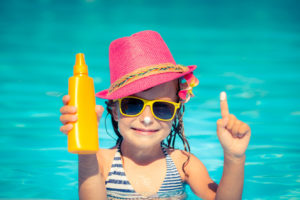 #3. Pack a snack – Here is the one pool rule I endorse breaking. Most pools and waterparks frown on bringing in your own snack. Is that rule in place to keep pesky Cheetos out of the water, or to pad their pockets and sell more concessions? You can be the judge, but I say smuggle it in.  Don't get carried away with cover-blowing submarine sandwiches, but some crackers or granola would go a long way. Keep it respectful and don't let the crumbs wander to the water.
#4. Go to the right place – Do a little research! Check the offerings of the facility BEFORE you head out. Some parks are better suited for younger children and some are better for big kids. If you have a baby or toddler, look for things like a special area for littles only, or at the very least, a zero-depth pool. Consider finding an aquatic center for bigger kids that have a diving board, super slide, and maybe even a more thrilling option like wave pools or an aqua-climb.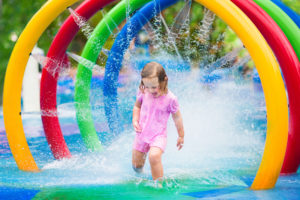 #5. Take breaks – Kids get carried away and forget to take time to hit the hydration station for some H2O, and they definitely are not going to take break from a wild round of Marco Polo to use the bathroom. Plan to take a break, once an hour, every hour to keep little swimmers going strong.
#6. Stay alert – When everything is going "swimmingly" (Ha! I couldn't resist!), it's easy to get distracted. I mean come on…the people watching at a pool is some of the finest! But seriously now, make sure you're always on your A-game! Keep your eyes peeled open and keep your mind in the game. Having a lifeguard on duty is not a replacement for the watchful eye of a guardian and can be a false sense of security!
#7. Have the right "gear" – Everyone has seen the poor kid romping around the pool in the saggy suit that is 2 sizes to big, or even more painful to watch, the suit that is way too tight! Make sure you have a well-fitted suit for your kiddo and any extra bells or whistles you might need. Younger kids will appreciate a little water toy and older kids will have fun with goggles or diving rings.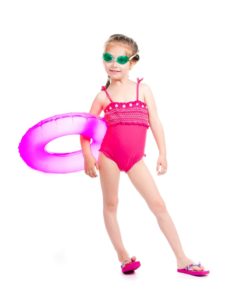 #8. Plan around naps – Possibly the worst part of an all day water adventure is that smaller kids will burn out faster in the sun, and will still need naps. Ugh…..napping at the pool is not the easiest task. Having a plan on how to accomplish a nap is a necessity! For babies, the easiest option is resting in the stroller, but for toddlers, you might want to plan on making a little "Nap Nest" on a lounge chair with extra beach towels.  Look for shaded areas, away from as much chaos as possible for your best chance at success.
#9. Know the rules – Pools, splash pads and waterparks all have LOTS of rules….in my opinion too many rules, but that's beside the point. It's best to read up on the rules of your facility BEFORE you go. Some pools allow floaties and some treat floaties like a contagious disease! Some slides or rides have really strict height policies or age restrictions. Most require swim diapers and NO….regular diapers are not the same. You can read more about that disaster story here.
#10. It's quittin' time – Knowing your kids AND yourself, will help you to gauge when it's time to to call it quits. There is this ridiculously fine line between a good time and total burn out, especially when it involves a full day of fun in the sun. Avoid a splish splash meltdown by judging ahead of the curve for when it's time to pack up and head out.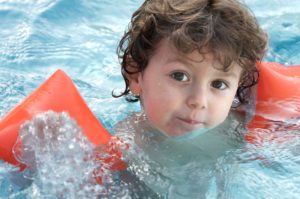 Like us on Facebook for more helpful tips and ideas for a GREAT summer with your Tiny Travelers!
Have another savvy tip for swimming with littles? Share it here!