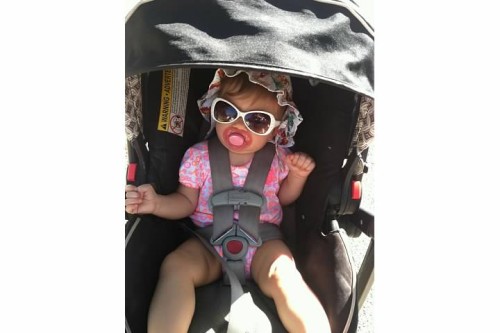 As a kid who did NOT grow up on the silver spoon plan, my family found fun in the 80's by doing cool (FREE) stuff like going to parades! In fact, most of my favorite childhood memories include a parade! The bands, the lights, the dancing, sitting on a curb with my feet in the gutter, the free political candidate stickers and gross old candy that you'd never pick from the candy shop, but were happier than heck to get anyway! Hey, what's not to love?
I would get so pumped up in the days leading up to a parade. I would literally be out on the curb scoping out the best spots and vantage points for weeks! And on the day of the parade, oh just forget it…I was completely unglued!
When I had a daughter of my own, I made it my mission to show her the joy of a parade and what better place to start than DISNEYLAND?! When it comes to parades I have a "go big or go home" philosophy… obviously. Because I was so excited to take her, my lucky Tiny Traveler enjoyed themed pancakes for about a month leading up to her trip. Also worth noting that this is the closest thing to "Pinteresty" that I do.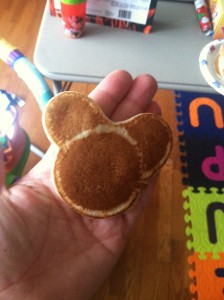 So, out to see "The Mouse" we went and it was great! She was the best California girl in her shades and sunhat! Lucian was one happy kid, in the happiest place on Earth, with an even happier momma…and a PARADE to top it off? Wowzer! Hold on to your happy little underpants!
I kept my eye on the prize all day. Watching the clock to be sure we wouldn't miss it, planning the naps and eating schedules around it, strategically planning my itinerary of attractions and ALL while looking for opportunities on the route to snag a great spot for watching those fabulous floats.
As the start time was approaching, the crowd began gathering and snatching up all of the front row seating. I knew that I had to make a move, FAST! My eyes were searching all over the crowd like I was trying to figure out a really difficult "Where's Waldo".
"Awesome- There's a spot!" Ah! That jerk just sat in MY spot!
"Ok – Over there! Move! Move! Move!" Ugh…I can't see from here because that tree is blocking my view.
"Here's a seat!"  – Large man plops his whole family down in front of us, so Lucian can't see.
I was starting to get worried that I wouldn't find a seat..
And then… as if the sky parted… a light beam came shooting down on the sidewalk up the street a little ways. Well, not really. But it could have because it's Disney, so just go with me people!
I noticed THE PERFECT SPOT! Front ROW and no one was there. It was completely open like it was just waiting for me to sit there and experience this magical moment with my Tiny Traveler. I took one look at all these novice, parade going morons, who hadn't moved to this excellent location, and I was off! I ran to the spot like I was a warrior! I was hurdling over other families (sorry mommas!), doing the limbo under barricades and racing around like I was in the Indy 500 with my stroller.
Here's the GOOD news:
I GOT THE SPOT!
With a heart full of victory, I secured the priceless location. I had more than enough room to spread out, time to buy Lucian her 1st Disney churro, I got our mouse ears on and we were ready to ROCK! I heard the music start coming and I could feel myself literally vibrating with excitement. Lucian was dancing, giggling and trying to see what was coming. Life was perfect! Her FIRST parade moment was about to happen! Whoo hoo!
Here's the BAD news:
WE WERE NOT ON THE PARADE ROUTE!
"Omg!"
"This is not happening!!"
"Lucian is going to miss The Mouse!!!"
That's right… I picked a spot that wasn't even on the stupid ROUTE!  My parade, that I had looked forward to all day, was not even going to come past us! It was going to end two blocks before it got to us.
"But I am the parade aficionado?"
"How did I miscalculate the route?"
Total. Epic. Defeat!
Because I'm a veteran parade goer since birth, I knew there was no chance in trying to move down and sit closer to the parade (you know…by all the people I trampled over earlier with my Olympian moves).
So instead, I straightened Lucian's mouse ears, packed up our carefully laid out blanket, stuffed my face with a $9 churro and proceeded to go ride the carousel instead, which she found just as amusing. Go figure!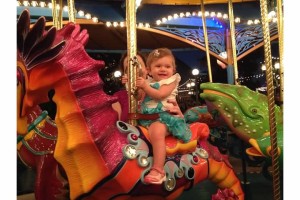 Here's the lesson I learned in all of this failure:
Even if you are an ALL STAR planner, you probably going to totally biff it for your own kids at some point. Like, real, major biffage!
Keep these three things in mind:
Don't beat yourself up. It happens!
All is never lost. You can ALWAYS still have your Happily Ever After moment.
Saving grace? There's a parade like every hour at Disney, so  just catch the next one. 🙂
Ever strike out this bad? Tell me about it!